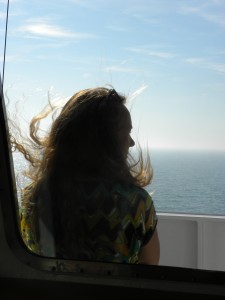 EDUCATION
PhD Music Therapy, VU University department of clinical neuropsychology Amsterdam, Netherlands; 2019
Master of Arts in Music Therapy, advanced program, New York University, USA; 1999-2000
Education in Voice & Body Work, Institute STEMWERK, Rotterdam, Netherlands; 1995-1996
Private Study in Oriental Music Therapy, Oruç Güvenç Marmara University, Istanbul, Turkey; 6 months 1998
Bachelors in Music Therapy, HAN University for Applied Science in Nijmegen, Netherlands; 1989-1993
Education Music Teacher & Classical Singer, Robert Schumann Conservatory Zwickau & Hans Eisler Conservatory Berlin (Aussenstelle Schwerin), East-Germany; 1984-1988
EXPERIENCE
Music Therapy Lecturer SRH University Heidelberg, Germany; since 2019
Music Therapy Trainer & Researcher: performing research at De Lanteerne, Jenaplanschool, Public Education Nijmegen & VU University Amsterdam, Netherlands; since 2012
Music Therapy Lecturer & Coordinator research at HAN University for Applied Sciences Nijmegen, (Hogeschool Arnhem Nijmegen),  www.han-cto.nl; Teacher & Trainer of methods, voice and research, Netherlands; 2005-2020
Music Therapist, Heartsong Incorporated, Scarsdale, NY,
Music and art therapy program for children with disabilities, USA; 2002-2005
Music Therapist, Department of Education, Brooklyn, NY,
Indiviual and group work in special education program for children with autistic and developmental problems/delays, USA; 2001-2005
Music Therapist, Institute for Music & Neurological Function, Beth Abraham Health Services, Bronx, NY,
Individual and group work in rehabilitation setting with patients with strokes, Parkinson- and Alzheimer disease, USA; 1999-2000 (internschip with Benedikte Scheiby)
Music Therapist, Psychiatric Hospital H. C. Rumke Groep, Den Dolder
Individual and group work with in & out-patients at the unit for long-term trauma treatment, sexual abuse & forensic rehabilitation and unit for short-term treatment; Netherlands; 1991-1999
Music Teacher in private practice & classical singer in Gewandhauschor Leipzig, East-Germany; 1984-1988
OTHER RELEVANT EXPERIENCES
Founder of Voice Forum; International collaboration of music therapy professionals with focus on voice as primary instrument; since 2008

Specialization in the human voice:  Research and study of educational and healing approaches of traditional singing as a multicultural approach for music therapy; trainings, workshops and presentations at conferences and institutes in USA, Europe, Asia and South America since 1997
Music Therapy & Voicework in Private Practice since 1997
Music Therapy Certification, Register of Creative Therapy, Registered Music Therapist, RMTh, Netherlands; 1995-1997
Social & Cultural worker, OPL Institute for children with developmental handicaps, Summer-camps, Netherlands; 1990-1993
BIOGRAPHY
1961 born in former East Germany, studied classical singing; moved in 1988 to the Netherlands and completed her BA in Music Therapy in 1993. Since 1991 she worked as a Music Therapist in the psychiatric hospital with traumatized women, forensic rehabilitation clients and patients in short term therapy. She received her RMTh (Registered Music Therapist) in 1997 in the Netherlands. In 1998 she trained for six months in oriental music therapy with Oruç Güvenç, Marmara University in Istanbul, Turkey. She received voicetraining from various teachers in Europe and USA and practices private voice work and music therapy since many years. In 2000 she completed the Advanced MA program in Music Therapy at New York University and worked in the neurological setting of Beth Abraham Health Services with patients with strokes, Parkinson disease and Alzheimer. From 2001-2005 she worked for the Department of Education, Special Education program for children with autistic and developmental problems/delays as well as for Heartsong, music and art therapy program for children with disabilities in Scarsdale, NY. In 2005 Sylka returned to the Netherlands, became faculty member of HAN University for Applied Sciences in Nijmegen, teaching music therapy, voice & research. Since 2010 is Sylka studying for her PhD, researching the effects of singing and rapping on emotion regulation for children and youth.
CONTACT info
Please email Sylka at:
Sylka.Uhlig@gmail.com
Thank you!